Volunteers Are Needed Now:
We are looking for volunteers, especially those in the Tennessee Promise and Tennessee Achieves Programs.
---
Calendar
WE JUST LOST "UME" ON MAY 23rd, She has gone to the "RAINBOW BRIDGE" to be with our husky family!

​SUNDAY,JULY 30th @ 2pm MORNING POINTE Assisted Living with Bill Moneat, Entertainer, we will be there with the huskies, "Cinnamin & Margaux". Come get a t-shirt (by donation only) and watch our show!

Tusculum College Students will be starting back in August for making regular visits to our friends & residents at our favorite facilities...Come sign up! Get your academic credit! See you September 13!

TN high-schoolers sign-up NOW for TN PROMISE PROGRAM! Be part of making the 2018 calender! Get your free college credit NOW!





NEED VOLUNTEERS FOR 2018 CALENDER

"To sign-up for each event listed on the calendar - email us at: greeneanimalleague@gmail.com.

Feel free to call for more information about future events. Call: 423-798-9977.

***ALL DONATIONS ARE WELCOMED***

"PLEASE DONATE FOR "UME'S" HONOR & SERVICE"
BUY A T-SHIRT & CALENDER FOR A GOOD CAUSE!

These photos are posted deliberately to show you "how volunteering can be a fun experience with me" and my huskies....SIGN UP NOW!
---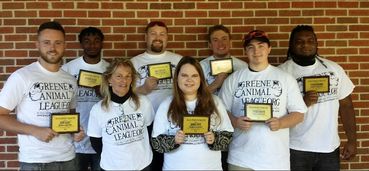 ---
We have T-shirts ($20) and Calendars ($10) for donation - Tax-deductible donation to Spay/Neuter Fund.
***USA Service Dog Registry
​Copyright 2016 Greene Animal League